Ricochet: "...we will never surprise you with fees or bills you don't expect."
That sounds quite nobel but $1,308 in your face every year is far more expensive than paying $395 to $595 once for a software program with no monthly or annual 'support fees' with the remote possibility of having to pay negligible amounts for a little help now and then.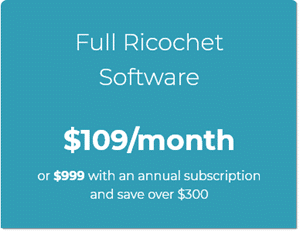 Sales Hype
Ricochet: "Software shouldn't ever hold back your growth. Unlock the potential of your store with software that can scale with you."
This suggests that other software programs will 'hold back your growth' which is utter nonsense. Software isn't going to unlock your store's potential any more than it is going to restrict it. Yes, one program might have a catchy feature that another may not have, but at what cost?
Mobility
Yes this program can be used on any platform and provides 'mobility' but at what cost point does 'mobility' become a nonfactor? Consignment stores have physical locations where business is conducted. What mobility is needed that warrants paying $13,080 over the next 10 years? Instead install software that you own (not rent) on a laptop which can be taken with you. Another option: Install the software at the shop and use any of the free remote-pc programs to access from anywhere with a computer with an Internet connection - for free.
Profit is also about managing cost wisely.
Patronization
Ricochet: "Fair pricing for us all. Because clarity makes everything better."
Again, another stab at nobility but there was a day when we could purchase software for one price and use it for life, so this new idea of paying forever for software is unfair and only serves to enrich software providers at the expense of small-business owners. Making it 'clear' does not make it any less absurd.
Where's the 'Clarity'?
Ricochet: "Can I cancel anytime I want? You sure can. ... For annual subscription cancellations, in most cases you will receive a refund of the remaiing months in your year term. We do however retain the authority to withhold refunds per our discretion. Their User Agreement: "Any refund of service dues will be handled on a case by case basis."
I have asked for a copy of the end users' license agreement because despite the claims to transparency and honesty, 'retaining unearned prepayments for software' suggests that there may be other devils in the details.
Risk of
Ricochet: "Is there a risk of you losing my data? As with any online platform, there is always a risk, but our software uses the same security and encryption as most national platforms.
Addendum: Most international platforms are encrypted so in light of the many hacks in recent years, pushing such assurances of data security is tantamount to fraud:
Adobe - personal information of 2.9 million accounts was stolen
Equifax - 143 million American, Canadian and British accounts
Sony - personal data of 77 million users hijacked
South Korea - 100 million credit=card accounts stolen
Target - 110 million customers including banking data of 40 million customers and personal data
Devils in the Details
The fact is web-based software puts your information and your clients' information 'out there', making it accessible. Assurances to the contrary are intended to belie your concerns of risk. The real risk is using web-based software and putting your clients at risk without their knowledge or permission. From the terms of use: "LICENSEE AGREES THAT THE SOFTWARE AND WEBSITE SERVICES ARE PROVIDED "AS IS." ANY USE OF THE Shift6 Solutions LLC, DBA Ricochet Consignment Software SOFTWARE AND WEBSITE IS AT LICENSEE'S SOLE AND ABSOLUTE RISK." In other words, "our software uses the same security and encryption as most national platforms" really means 'You're on your own'.
Further, "IN NO EVENT, WILL Shift6 Solutions LLC, DBA Ricochet Consignment Software, INC BE LIABLE FOR ANY DIRECT, INDIRECT, SPECIAL, INCIDENTAL, OR CONSEQUENTIAL DAMAGES ARISING OUT OF THE USE OF OR INABILITY TO USE THE LICENSED SOFTWARE OR THE Shift6 Solutions LLC, DBA Ricochet Consignment Software WEBSITE SERVICES, ERRORS IN OR LOSS OF ANY DATA, EVEN IF Shift6 Solutions LLC, DBA Ricochet Consignment Software IS ADVISED OF THE POSSIBILITY OF SUCH DAMAGES. SPECIFICALLY, Shift6 Solutions LLC, DBA Ricochet Consignment Software IS NOT RESPONSIBLE FOR ANY COSTS INCLUDING, BUT NOT LIMITED TO, THOSE INCURRED AS A RESULT OF LOST PROFITS OR REVENUE, LOSS OF USE OF THE SOFTWARE OR SERVICES, LOSS OF DATA, THE COSTS OF RECOVERING DATA, ANY CLAIMS BY THIRD PARTIES, OR FOR OTHER SIMILAR COSTS. Shift6 Solutions LLC, DBA Ricochet Consignment Software MAKES NO WARRANTY OF ANY KIND AS TO THE SUITABILITY OR ADEQUACY OF THE Shift6 Solutions LLC, DBA Ricochet Consignment Software SOFTWARE OR WEBSITE SERVICES FOR A PARTICULAR PURPOSE OR NON-INFRINGEMENT."
The software is offered by Shift6 Solutions LLC. An 'LLC' is a Limited Liability Company protecting those offering the software from legal action, so if your data ends up in the wrong hands, what's your legal recourse? None?
The software vendor reserves the right to change the terms of the agreement governing the use of the software, and continued use of the software after changes are made constitute acceptance of the changes.
So pay out the nose for 'software' and subject your business to law suits? loss of reputation? customers? sleep?
What if you want to leave Ricochet?
The vendor reserves the right to cancel service at any time and states, "Upon termination Shift6 Solutions LLC, DBA Ricochet Consignment Software shall terminate the Licensee's access to their Shift6 Solutions LLC, DBA Ricochet Consignment Software account, the account itself and the data residing therein." "[Vendor] SHALL NOT BE RESPONSIBLE FOR LICENSEE ACCOUNT DATA AFTER TERMINATION NOTIFICATION.
Questions to Ask
What happens to my data when I choose to leave?
Can you increase the fee for using the software?
Your User Agreement denies all culpability. This is in stark contrast to the assurances put forward in your selling efforts is it not?